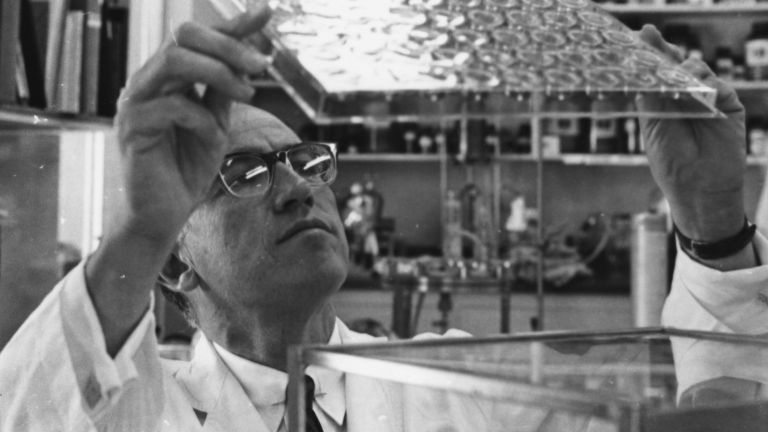 Millions of mothers around the world know this name – Jonas Edward Solk. The doctor to which hundreds of thousands of children owe their lives. The scientist, who developed the first polio vaccine (a pedicle) that both believed in his work, put the experimental doses on him, his wife and his three children.
On April 12, 1955 Dr. Solk's vaccine was announced safe and effective. But the way to save hundreds of thousands of lives is long.
Jonas Edward Solk was born on October 28, 1914 in the family of Daniel and Dora Solk, the Ashkenazi Jews.
Father Daniel was born in New Jersey in a family of immigrants from Eastern Europe, and Mother Dora arrived in the United States of the Russian Empire when he was 12 years old. Jonas is her firstborn son, after two new children are born.
At the age of 13, he enrolled at Townsend Harris High School, a school where intelligent but poor immigrant children trained for free. Daniel Solk was a tailor and barely managed to support his family, but he and his wife Dora thought that education was very important and encouraged their older children to study.
After graduating from high school, Jonas Solk enrolled in New York City College, where he received a bachelor's degree in science. But not for there. He continued his education at the University of New York, where he enrolled in medicine in 1939. During two years he was a student at the Mount Sinai Hospital, then to be a member of the University of Michigan, where he studied influenza viruses with Dr. Thomas Frances Jr. and developed a flu vaccine.
In the forties and fifties, a polio epidemic (paralyzed by a child) lasted in the United States and around the world. Only in 1952 the deaths were 58 000. Tens of thousands of children every year remain disabled for life, hospitals are full of small patients who can not even breathe alone and are subject to artificial ventilation with "iron lung". The country is trapped by panic and scientists seek frenzied salvation. Franklin Delano Roosevelt himself is diagnosed with child paralysis when he is 39 years old and remains paralyzed from the waist for sinister disease.
In 1947, Dr. Solk was invited to direct the Viral Research Laboratory at the University of Pittsburgh. A little later he was contacted by the National Fund for Poliomyelitis to finance his polio vaccine.
A year later, the development of the polio vaccine was the largest medical project in history, including 20,000 doctors, 64,000 assistants and 220,000 volunteers.
In 1951, Jonas Solk distinguished three different types of viruses causing polio (child paralysis), which allowed him to develop a "dead" vaccine in the injection that the child's body began to produce antibodies. Preliminary tests of the polio vaccine began in 1952, and Dr. Solk applied experimental doses for him, his wife and three children.
When the vaccine was approved for use in 1955, Jonas Solk has become a national hero. President Dwight Eisenhower paid special attention during a ceremony at Rose Garden at the White House. What, however, impresses and leaves people with no words the refusal of Doctor Solk to patent his discovery, although according to journalists and expert calculations, this would be the richest man in the world. with a rent of 7,000 million dollars.
When a CBS reporter from the United States asks him: "Who is the patent owner?", Dr. Solk answers:No one Who can patent the Sun? It's for everyone".
In 1956, the mass vaccination of children against polio began. In just 5 years, the number of patients fell by 96 percent.
8 years after its revolutionary discovery, Jonas Solk created the Center for Biological Studies in San Diego, which bears his name. There, he and other scientists focus their efforts on diseases such as multiple sclerosis and cancer, and later Dr. Solk studies AIDS and the HIV virus. In addition to his research, the scholar also writes several philosophical books. Among them are the man who develops (1972) and The Survival of the Most Sensual (1973), which co-authored with his son Jonathan.
In 1968 Dr. Jonas Solk divorced and two years later women for the muse of Pablo Picasso and mother of two of his children – Francoise Gillo. They live until the death of a doctor who died of heart failure on June 23, 1995 in his house in California.
The name of Jonas Edward Solk, however, is always on the list of the largest medical luminaries.