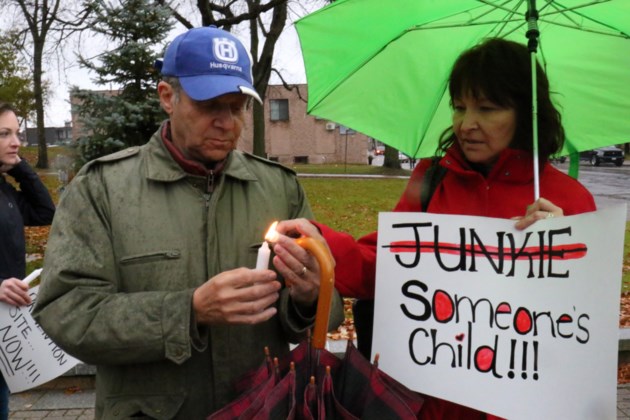 Some people held candles and clenched signs in front of Sault Ste. The court of Marie on Monday morning to honor the four lives that lost with overdose last week.
"We have just lost four lives in four days to this opiate crisis, but really, in the last year, we have lost more lives," Sault Ste. Journalist Amanda Jabbour, of the founder of Sex Workers Sex Sex, said. "Sault Ste. Marie, the city itself finds a very good way, you know, it's easy to keep everything underground when such things happen and these lives matter."
Michelle Jones works on the front line of opioid addiction at Sault Ste. Marie Indian Friendship Center.
He lost his son, Kenny Jones-Boyer, an overdose in 2011.
He was only 20 years old.
"It was not your methadone, but when you are fighting, they are taking everything and … you can not stop, you can not stop," Jones told SooToday during the vigil. "They are a train train".
"Then, as a mother, I understand how to fight the system. It is trying to protect them – inside and outside the hospital, inside and outside the prisons."
Jones used a number of local agencies in an effort to help their child.
"There was great support at the moment, I think they did what they needed," said Jones. "But we could not take it fast enough, so it was difficult."
"You get to the point where we would have the right to take the plane to go to the treatment, then he would go away."
Jones says front-line media have to work fast so that a person is on the way to recovery.
"We are trying to change the way we are dealing with clients in the friendship center, then when they come in and they want help, we do the full intake … trying to put them into detoxification anywhere." she said.
Two employees with Maamwesying North Shore Community Health Services – Chantelle Syrette and Krista Roy – were among the first-line workers in the wake.
Syrette says that Maamwesying was busy with his addiction recovery program located on the fifth floor of 123 March Street and was shown Monday's vigil with the hope that none of the four lives lost last week were his clients.
"They can be our clients," said Syrette. "Our OD clients all the time, then we walk with them in their pain."
Meanwhile, Jabbour told reporters at the vigil waiting for the city to have detoxification facilities in the future.
"I hope that they receive sufficient pressure from the grassroots organizations and members of the community to carry out the provincial funds to open a medical detox," said Jabbour. "And if they do not do it, we need to continue moving forward with the change."
"Change has never happened by people who are standing. Change occurs when forced."
During the vigil, Jabbour energetically told the crowd that they were four real people – with families, friends and loved ones – who died last week.
"These lives are not drug addicts, these lives have been stolen and cut very short, so I am here to honor and respect these lives and all other lives that we have lost due to this opiate epidemic," said Jabbour.
Source link