The United States reported more cases of measles in the first two months of this year than in 2017, and part of the increased threat is due to misinformation that causes some parents to oppose the vaccine, federal authorities reported. Health Wednesday to the Congress.
However, the vaccine is very effective and safe, so the increase in measles cases "is really unacceptable," said Dr. Anthony Fauci, director of infectology at the National Institutes of Health.
The disease was declared eradicated in the United States in 2000, which means that it did not spread in the country. However, cases have increased in recent years and 2019 is especially bad.
Democracy and Republican legislators at the hearing of the Chamber of Energy and Commerce's subcommittee called for what they call "vacillation hesitation," which means that people oppose or delay the vaccinations.
Concern about the increase in cases of measles in the US UU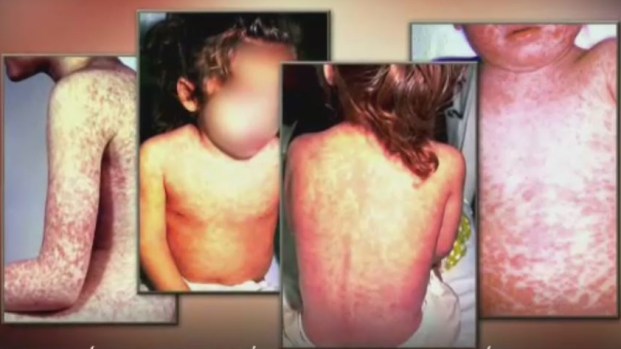 "These outbreaks are tragic because they are totally preventable," said Representative Brett Guthrie, R-Kentucky.
"It's a public health problem for which science has already offered a solution," said Frank Pallone, a Democrat from New Jersey.
Measles usually begins with high fever and several days later there is an eruption on the face that extends to the rest of the body. Among the serious complications, 1 out of every 20 patients receive pneumonia and 1 out of every 1,000 suffers from cerebral inflammation that can cause convulsions, deafness or intellectual disability.
Although unusual in the United States, 1 or 2 out of every 1,000 children with measles die, according to the Centers for Disease Control and Prevention (CDC).
It diffuses when you cough or sneeze, and someone can spread the virus four days before the characteristic rash appears, said Fauci.
The virus can live up to two hours in the air or on the nearby surfaces. Nine out of 10 non-vaccinated people who come into contact with someone with measles will get. Fauci said that it is "one of the most contagious viruses known to man."
In general, about 92% of American children have a triple vaccine (also known as MMR) that protects them against measles, mumps and rubella. Two doses are required, approximately one year after birth and the second between 4 and 6 years. Complete immunization is 97% effective in the prevention of measles.
However, the CDC states that 1 in 12 children do not receive the first dose in time and, in some places, the vaccination rate is much lower than the national average. For example, an outbreak in the state of Washington was linked to a community where only 80% of children were adequately vaccinated.