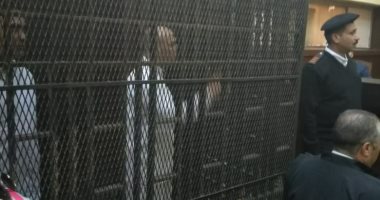 The Criminal Court of Giza, which was held on October 6, the Court of First Instance, on Monday, condemned Hisham Abdel Basset, former governor of Menoufia, to 10 years in prison and fined 15 million pounds and exempted the second and third accused of punishment.
The session was held under the chairmanship of the Councilor Bilal Mohammed Abdel Baki, and the member of Ahmed Sadiq Qarni, Ibrahim Lamloum, the Secretary of Asaad Al Nubi and Mohamed Hashim.
Nabil Ahmed Sadiq's Attorney General ordered the transfer of Hisham Abdel Basset, governor of Menoufia and two others accused of the Criminal Court of Cairo, charged with committing crimes. The governor of Monofia (as a public official) took the money as a bribe from the owner of a contracting company, a total of 27 million and 450 thousand pounds, in exchange for allocating the work of a series of projects carried out by the province and facilitating the reception of Works and the speed of disbursement of the financial statements.
The defendants were detained in custody on the basis of the case under which the investigation was overseen by counselor Khalid Zia, the first attorney general of the Supreme State Security Prosecutor and the two defendants who were convicted of legal proceedings in addition to the Governor of Menoufia Ahmed Said Mubarak, Bribery).
Source link