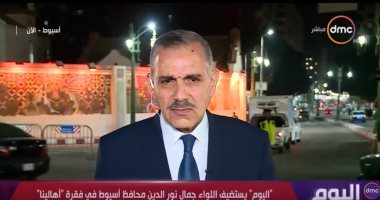 He said that the end of sewerage problems in the government will be at the end of this year, according to the Prime Minister's guidelines, and continued: "The experimental operation of the station will be in a month, noting that the province is working to complete some of the problems they suffered Some obstacles After the convergence of all institutions and ministries to facilitate life for citizens.
He added, "Noureddine" during an interview with the "Today" program, broadcast via satellite "dmc"We want a positive participation of citizens to solve drainage problems. The Arabs from the warehouse have been charged in channels and banks. Citizens have to inform them about these vehicles that pollute the waste water."
The governor of Assiut confirmed that according to the instructions of President Abdel Fattah al-Sisi, a road from the city of Nasser, 150 meters above sea level to the mother city, will be built, which will reduce the length of access to Assiut during 15 minutes instead of 45 minutes with a total cost of 900 million pounds.
Source link