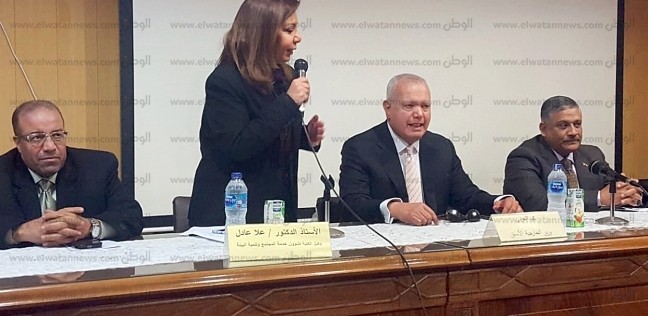 The former Minister of Foreign Affairs, or Dr. Mohammed Al-Orabi said that the Alsun Als Shams School, always distinguished by the graduation of distinguished diplomatic cadres, has held high positions in various ministries since its establishment, explaining that they have scientific chapters, always help to guide the deputies, inviting students to strive for Get your dreams, "There is no difference between them," he said. "The State Department, for example, takes everything, neither way nor favoritism."
During his speech at the Faculty of Al-Alsun, Ain Shams University, Dr. Al-Arabi said: "In the presence of Dr. Nazmi Abdel-Hamid, Vice President of Community Service and Environmental Development, and Dr. Mona Fuad, Dean of the Faculty, became tragic, explaining that Turkey currently occupies three Arab countries:" Syria, Qatar and Iraq. "
He added that there are a number of questions that have been made many in the Syrian archive, and added that the rules of engagement are now incomprehensible, because there are more than eight countries occupied by "Turkey, Russia, Iran, Israel, Hezbollah and other countries," indicating That this phenomenon did not exist In the modern era, a direct superposition in the affairs of states by other countries.
He explained that Syria has become a training forum for foreign armies and continued saying: "If Aleppo Aleppo in Syria I will see that the Russian army is the traffic police."
He added that the Arab world is currently living a new war of wear under the curtain of "security of others" in exchange for material payment. Emphasizing that it had a negative impact on the rupture of the construction and development wheel, saying: "Turkey has published such a rule , for example, bases in Somalia ".
The former Foreign Minister said that the national security of any country is beginning from outside its borders and indicated that Arab countries should be guided by the vision of their national security and pointed out that the Arab world is living in its worst conditions, O which is called "call".
He added that there is a significant reduction in the monitoring of the Palestinian cause, taking into account the large number of what happened in Arab countries and the concern of each country with their own internal affairs, pointing out that terrorism is currently faster than governments, especially in use of all modern means of technology, To make Africa the refuge and maximum refuge of African groups, starting with the South in the countries of Chad and Somalia, the end of the countries of North Africa, emphasizing that African countries must join to face this scheme.
News that you like