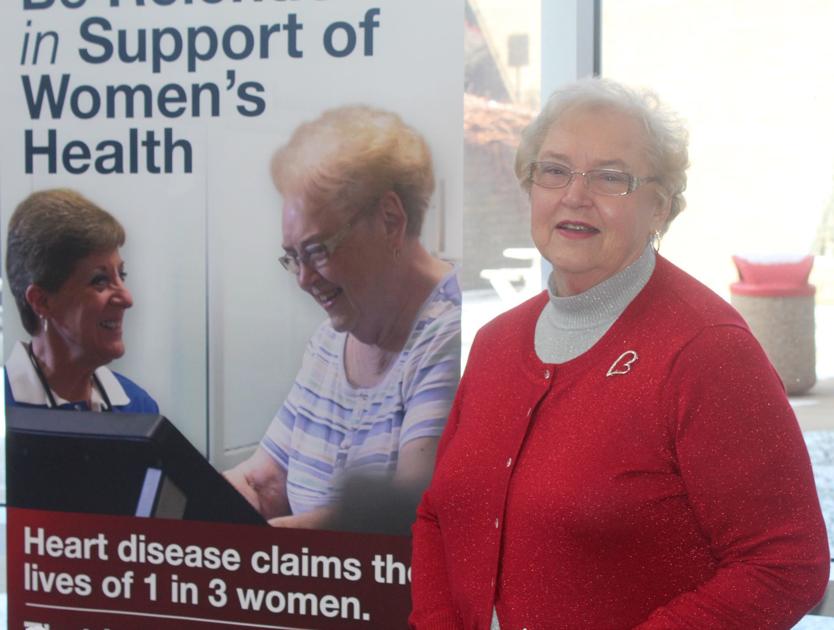 BRIDGEPORT: Heart disease is the second leading cause of death in West Virginia, according to the American Heart Association.
National cardiovascular disease assumes the lives of nearly 500,000 women a year, many of whom are not aware of early warning signs, causes that contribute and recommend best practices to reduce risk.
To raise awareness about women's cardiac health before the use of the National Heart Association Go Red for Women on Friday, the Bridgeport UK Hospital Center created an informative presentation on Thursday morning with informative brochures, healthy snacks and interactive displays.
Cheryl Farley, the director of cardiac and lung rehabilitation at UHC, said that although it is important to take into account cardiac disease throughout the year, February is designated as the American Heart Month.
"On February 1, Heart Day begins and this year has just been the first Friday of the month, which is when we celebrate the Day of Victims for Women, on the day of the American Heart Association every year to raise awareness of women and heart disease, "he said.
West Virginia consistently ranks among the states where women are most affected by heart disease and several other contributing diseases, said Farley.
"West Virginia is always in the top five for the prevalence of heart disease and also the prevalence of diabetes, obesity and smoking," he said. "Women have heart disease and die of heart disease, which is why we want to raise awareness and educate people so they can reduce their heart disease."
The elimination of the use of tobacco products is among the most recommended measures that a woman can take to reduce the risk of heart disease, said Farley.
"Number 1 is the use of tobacco," he said. "We want to educate people to stop using tobacco, and not just smoking, but also chew tobacco and tobacco too."
To help control blood glucose, blood pressure, cholesterol and weight, Farley said he recommended women who control their diets and increase their weekly exercise level.
"We do not recommend the diets of fashion, we want something that is a healthy diet with which you can live the rest of your life. So the choices are lower in carbohydrates, lower fat and lower sodium," he said. "So you have to combine with exercise. We want people to have 180 minutes of aerobic exercise per week, so they are 30 minutes per day, six days a week or 45 minutes a day, four days a week."
The American Heart Association is also dedicated to teaching the public the appropriate RCP technique, which can save the life of a loved one in case of cardiovascular suffering, said Farley.
"Now you do not have to speak. If you are a loved one and choose to make the word you can, but now it's only CPR," he said. "Do not be afraid to do CPR. Place your hands in the middle of your chest on your sternum and press and press fast."
The UHC will offer free vascular projections throughout the month of February to help patients assess the risk of heart disease through the "Dare to Care" program, said Farley.
"It's a free evaluation and can call 304-681-342-1365 to schedule an appointment for that," he said.
Lyda Lister, a survivor of heart disease and a graduate of the UHC cardiac rehabilitation program, said the program provided invaluable education about her illness and the courage to make appropriate lifestyle choices.
"That was probably the best thing that could happen because it made me more aware of what happened to me and how I managed to avoid another episode," he said. "Probably the oldest one there at the time and I felt it was very beneficial for me."
The 36-week program informed him about the foods he should avoid and encouraged it to be more active, Lister said.
"I try to eat better. Cut all my salt, my sugars and my caffeine and try to eat a healthier diet," he said. "And I'm doing a little more exercise."
Lister, an elder, said the program and gave him the necessary tools to continue living the best life for as long as possible.
"At my age, I do not have so many years," he said. "So, I think I need to take full advantage of it. They are very active, I am involved in many organizations and I have to continue. There are many things that I still want to do."
The principal writer of writer Charles Young can be reached at 304-626-1447 or cyoung@theet.com
Source link