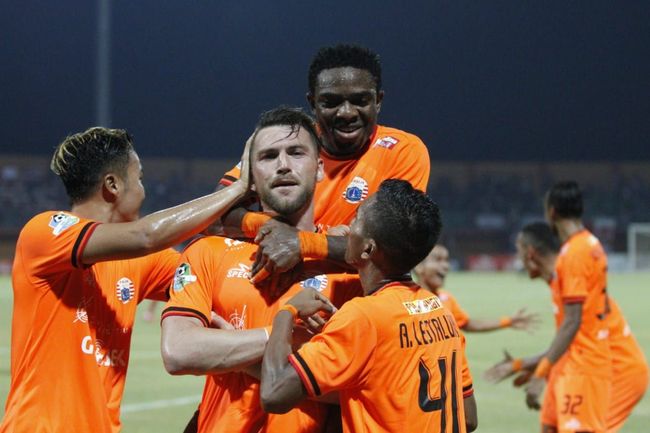 Jakarta, CNN Indonesia – Persia Jakarta should be happy to share a number after only PS TIRA can be pulled out in the next Liga 1 of 2018 held at the Wibawa Mukti Stadium, Cikarang, Saturday (10/11).
Although it dominated the game, Persija also obtained a strong resistance of PS TIRA that seemed insistent throughout the game.
The Kemayoran Tigers have a golden opportunity when the game is just three minutes from the action of Novi Setiawan. Unfortunately Novri's short-range shots from the Fitra Ridwan lure can still be dammed by the PSA Sahrul Fadil TIRA archer.
After 19 minutes, PS TIRA's burst through the central defense and let loose a cannonball of a shot, Using a wild ball from Aleksandar Rakic's strike hit by Ahmad Nufiandani but it could still be blocked by Persija's keeper, Shahar Ginanjar.
Persia had the last chance before the first time. Renan Silva who tried to penetrate in the penalty area was forced to be defeated by an opposing defender. Unfortunately the referee did not consider it a violation.
Entering the second half, precisely at minute 53. The server returns to create a good opportunity. Unfortunately his shot in the penalty box still spread over the bar.
A minute later, Renan Silva almost brought the winner. It's just that his left foot shot just hit the crossbar.
PS TIRA turned counterattack with the home team after 73 minutes, but the home side's keeper made the save. Dimas Drajad had to leave the pitch due to a knee injury.
Persia continues to strive to launch an attack at the heart of the defense of the adversary. However, the game behind the line of discipline of PS TIRA was able to reduce the action of Marko Simic and his friends. The final tie score ended until the fight ended.
Arrangement of players
Persia Jakarta: Shahar Ginanjar; Ismed Sofyan, Jaimerson, Maman Abdurrahman, Michael Orah, Asri Akbar, Fitra Ridwan, Novi Setiawan, Renan Silva, Ramdani Lestaluhu, Marko Simic.
PS TIRA: Syahrul Fadil; Radanfah Abu Bakr, Didik Wahyu, Abduh Lestaluhu, Ahmad Nufiandani, Dzmitry Rekish, Izmy Hatuwe, Woo-Young Jeon, Manahati Lestusen, Wawan Febriant, Aleksandar Rakic. (June / s)