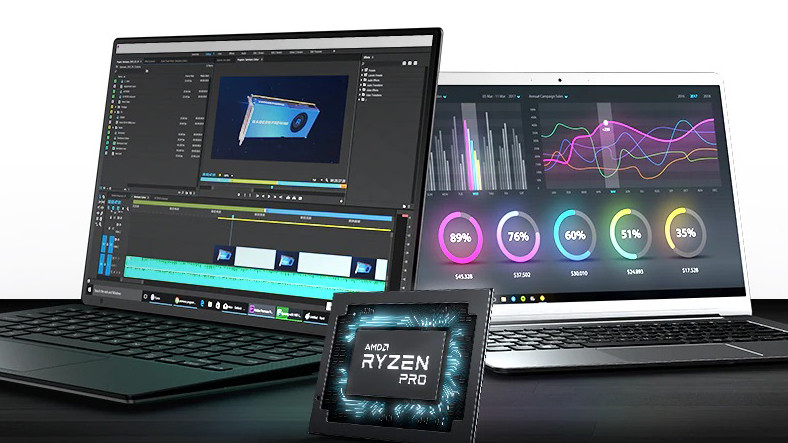 Intel's rival, AMD, aims to advance with Intel with its new processors.
AMD, who is trying to keep up with Intel with its processors, announced its new mobile processors. With the next generation of processors that will be used on top-class laptops, Intel promises 25% productivity and 50% battery usage.
AMD Ryzen PRO laptops can be used for 12 hours for the business and 10 hours. After a very ambitious statement, AMD shares some more interesting data. These data are as follows;
Compared to the Intel i5-8350U processor, the new AMD processors can be quite powerful.
To start using these processors, we need to wait a little longer. Hp and Lenovo are expected to have an AMD Ryzen PRO processor later this year.
Kaynak : https://www.pocket-lint.com/laptops/news/147704-amd-announces-new-high-performance-mobile-ryzen-pro
$ (Function () {
// Facebook window.fbAsyncInit = function () { fb.init ({ appId: & # 39; 1037724072951294 & # 39 ;, xfbml: true, version: & # 39; v2.5 & # 39; }); };
(function (d, s, id) { var js, fjs = d.getElementsByTagName (s)[0]; if (d.getElementById (id)) {back;} js = d.createElement (s); js.id = id; js.src = "http://connect.facebook.net/en_US/sdk.js"; fjs.parentNode.insertBefore (js, fjs); } (document, & # 39; script & # 39 ;, & # 39; facebook-jssdk & # 39;));
$ (& # 39; Body & # 39;). Ten ({ click: function () { // facebook save ajax button If fb.xfbml.p (); } }, & # 39; .facebook-save & # 39;);
// share the scroll if ($ (& # 39; content-sticky & # 39;). length> 0) { if ($ (window) .width ()> = 768) { $ (window) .on (& # 39; scroll & # 39;; function () { have scrollTop = $ (this) .scrollTop (); $ (& # 39; article & # 39;). each (function () { if (scrollTop> = ($ (this .find (& # 39;; content-body & # 39;). offset () top - 76)) { $ (This) .find (& # 39; The sticky content. & # 39;) AddClass (& # 39; sticky. & # 39;); (($ (this .find (& # 39;; content-body & # 39;). offset (). top + $ (this) .find (& # 39; content-body & # 39;). height () - ($ (this .find (& # 39;. content-sticky & # 39;). height () + 92))) $ (This) .find (& # 39; The sticky content. & # 39;) RemoveClass (& # 39; sticky. & # 39;); $ (this) .find (& # 39; content-sticky & # 39;). css (& # 39; & # 39;: & # 39; 0px & # 39;, & # 39; top & # 39;: & # 39; auto & # 39;}); } more { $ (This) .find (& # 39; The sticky content & # 39;). AddClass (& # 39; sticky & # 39;). CSS ({ & # 39;: & # 39; initial & # 39 ;, & # 39;: & # 39; 76px & # 39; }); } } more { $ (this) .find (& # 39; content-sticky & # 39;). removeClass (& # 39; sticky & # 39;). css (& # 39;: & # 39;: & # 39; auto & # 39 ;, & # 39;: & # 39; 0 & # 39;}); } }); }); } }
// click sharing $ (& # 39; Body & # 39;). Ten ({ click: function () { var $ this = $ (this), dataShareType = $ this.attr (& # 39; type-share-type & # 39;), dataType = $ this.attr (& # 39; data type & # 39;), dateId = $ this.attr ('date & # 39;), dataPostUrl = $ this.attr ("date-post-url", # 39;), dateTitle = $ this.attr (& # 39; data title & # 39;), dataSef = $ this.attr (& # 39; data-sef & # 39;);
change (dataShareType) { case & # 39; facebook & # 39 ;: fb.u of ({ method: & # 39; share & # 39 ;, href: dataSef, }, function (answer) { yes (response &&! response.error_message) { updatehit (); } });
break;
case & # 39; twitter & # 39 ;: shareWindow (& # 39; https://twitter.com/intent/tweet? via = webtekno & text = & # 39; + encodeURIComponent (dataTitle) + & # 39;% E2% 96% B6 & # 39; + encodeURIComponent (dataSef )); updatehit (); break;
case & # 39; gplus & # 39 ;: shareWindow (& # 39; https: //plus.google.com/share? url = & # 39; + encodeURIComponent (dataSef)); updatehit (); break;
case & # 39; email & # 39 ;: window.location.href = & # 39; mailto:? subject = & # 39; + encodeURIComponent (dataTitle) + & # 39; & body = & # 39; + encodeURIComponent (dataSef); // updatehit (); break;
whatsapp & # 39; case window.location.href = & # 39; whatsapp: // send? text = & # 39; + encodeURIComponent (dataTitle) + & # 39;% E2% 96% B6 & # 39; + encodeURIComponent (dataSef); updatehit (); break; }
ShareWindow function (url) { window.open (url, "_blank", "toolbar = yes, scrollbars = yes, resize = yes, top = 500, left = 500, width = 400, height = 400"); }
updateHit function () { $ .Ajax ({ type: "POST", url: dataPostUrl, data: {contentId: dataId, contentType: dataType, shareType: dataShareType}, success: function (data) {
if ($ (& # 39; video-showcase & # 39;). length> 0) { var $ container = $ (& # 39; video-showcase & # 39;); } plus if ($ (& # 39; article[data-id="' + dataId + '"]& # 39;) .length> 0) { var $ container = $ (& # 39; article[data-id="' + dataId + '"]& # 39;); } else if ($ (& # 39;. wt-share-item[data-id="' + dataId + '"]& # 39;) .length> 0) { var $ container = $ (& # 39; wt-share-item[data-id="' + dataId + '"]& # 39;); } more { $ container = null; }
// var $ container = dataType == "video"? $ (& # 39; video-showcase & # 39;): $ (& # 39; article[data-id="' + dataId + '"]& # 39;);
if ($ container! = null && $ container.length> 0) var $ badged = $ container.find (& # 39; .wt-share-badge - & # 39; + dataShareType);
find $ headerCount = $ (& # 39;. content-header & # 39;). find (& # 39;; wt-share-count & # 39;), $ containerCount = $ container.find (& # 39; .wt-share-count & # 39;), value = parseInt ($ containerCount.html ()) + 1;
$ container.data (& # 39; share & # 39 ;, value); //$containercount.html(value A);
if ($ headerCount.length> 0) { //$headercount.html(value A); }
if ($ badged.length> 0 && (dataShareType == & # 39; || dataShareType == & # 39; twitter & # 39;)) { if ($ badged.hasClass (& # 39; is-visible & # 39;)) { //$badged.html (date A); } more { //$badged.addclass('is-visible').html (date A); } } }
} }); } } }, & # 39; .wt-share-button & # 39;) });
Source link