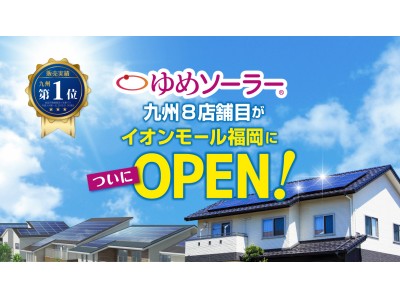 Pro shop "Yume Solar" of solar energy generation products, storage battery, all electrification open at AEON MALL FUKUOKA on November 23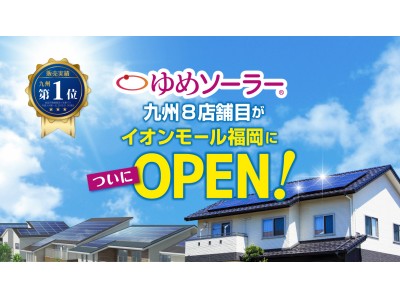 ~ "Come on, see, try" Let's ask Yume Solar ~
To our press
November 12, 2018
Japan Eco Life Co., Ltd. (Headquarters: Fukuoka City, Fukuoka Prefecture, Representative Director: Takuo Yamamori) announced the "Dream of Solar" showroom that shows environmental products such as the photovoltaic power generation system and all the batteries of electricity and storage at Aeon Mall Fukuoka. Friday, November 23, 2018.
[[URL]https: //www.yumesolar.jp/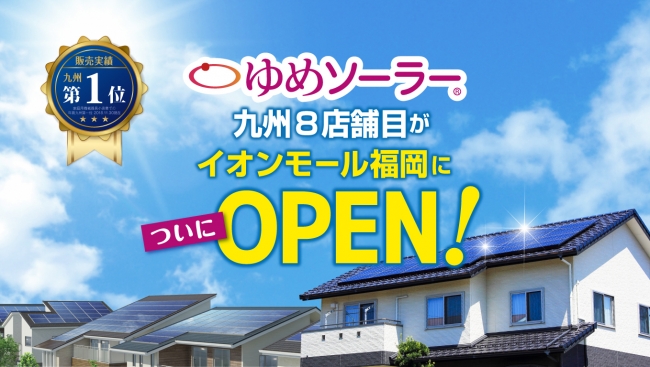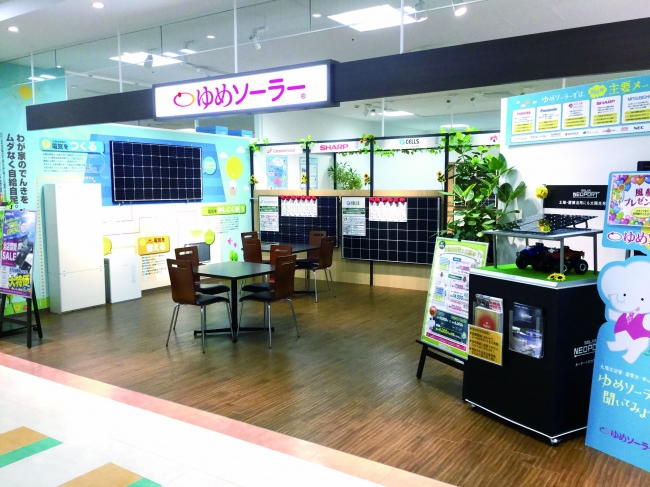 "Dream Solar"About
Many real solar power generation systems appear in the solar dream showroom.
When looking at the actual solar panels, the staff will be kind and respond attentively, including simple questions about the solar power generation system.
In addition, Yume Solar develops stores in Kyushu as sales area, will correspond to all areas of Kyushu, including construction and maintenance.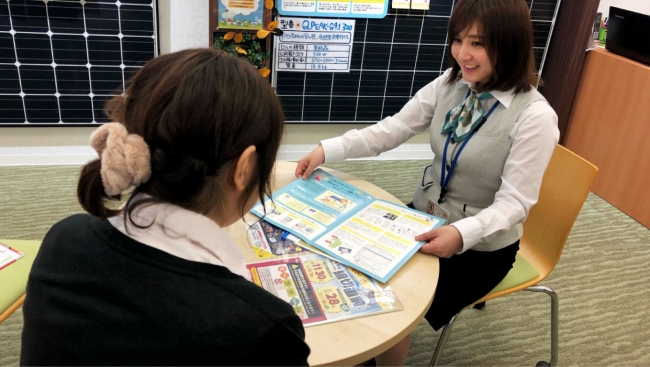 "Yume Solar"OfFive commitments
1. Because we do everything from proposal to construction and maintenance at low cost
2. Optimal proposal of more than 20 manufacturers in Japan and abroad
3. High quality construction through home-certified construction
4. Free inspection during the first year after installation and after 10 years support for "Support for Yume 10"
5. Development of the store in the major shopping centers through Kyushu
Factory Aeon Mall FukuokaOPENCommemorate the sale of OPEN special priceImplementation
In addition to OPEN's new dream solar Fukuoka store, the OPEN special price sale will take place in the existing stores below.
We offer popular products from 5 manufacturers at great special price.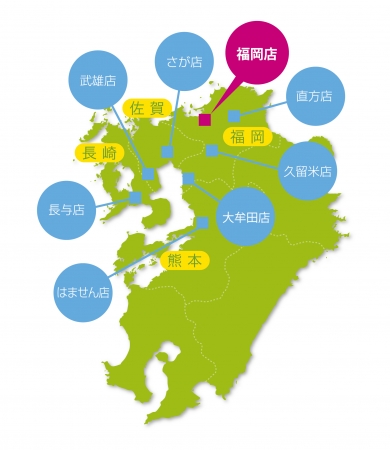 Dream Kurume Store Solar
Address: 〒 839 0865 Fukuoka Prefecture Kurume-shi Shinagawa 1 – Chome 2-1 Tokoname Kurume 2F
Opening hours: 10: 00 ~ 20: 00 Open throughout the year (except year and year)
Dream Shop
Location: 2 – chome Yunohara Nakano City Fukuoka Prefecture 822 – 0008 1-1 1st Ion Shopping Center
Opening hours: 10: 00 ~ 21: 00 Opened throughout the year (except holidays end of year and year)
Dream Solar Omuta Store
Address: 3-4 Misakicho Omuta City, Fukuoka Prefecture 836-0037, Aomori Mall Omuta 1st Floor
Opening hours: 10: 00 ~ 21: 00 Open throughout the year (except New Year and New Year holidays)

Yume Solar is the store
Address: 〒 849-0919 Saga City Hyogo Northern 5-chome 14-1 Yume Town Saga 1F
Opening hours: 10: 00 ~ 20: 00 Open throughout the year (except year and year)
Shop by Yume Solar Takeo
Place: Takeo-cho, Takeo-shi, Saga Prefecture 843-0022 4992 Takeo Yume Town 1F
Opening hours: 10: 00 ~ 20: 00 Open throughout the year (except year and year)

Yume Solar long-term store
Address: 1-2 Choyochidai Nishigonchi-gun Nagasaki-gun Nagasaki Prefecture 851-2131 1-1 Ion Town Long duration 1F
Hours: 9:30 AM ~ 6:30 PM Every day (excluding New Year holidays)

There is no solar dream store
Address: 〒 862 0 965 Kumamoto Prefecture Kumamoto-shi, Minami-ku 1-2 people Takei No Tokumeown 2F
Opening hours: 10: 00 ~ 20: 00 Open throughout the year (except year and year)
A storeOverview
Store name: Yume Solar Fukuoka store
Address: 〒 811-2303 Kasuya-gun, Kasuya-gun, Osaka, the drunkest of 192-1
TEL: 092-410-3760
Hours: 9:00 p.m. to 11:00 p.m.
Closed on vacation: Open all year round (except year and year)
Japan Eco Life Co., Ltd.About
Japan Eco Life Co., Ltd. It was founded in 1995 as a sales company for environment-related products, considering low energy self-sufficiency in Japan as a theme, has been working on the dissemination of renewable energy sources focused on solar energy generation. Since 2009, we have proposed and introduced the solar energy generation system for residential and industrial use to customers in various parts of Kyushu as a professional "Dream Solar" environmental products store. In addition, to support construction companies and traders nationwide, we establish a "Raku En" distribution site for corporations, and we have business offices in Tokyo, Osaka and Fukuoka.
Japan Eco Life Co., Ltd. Work on local energy production to carry out a decarbonization society and improve the energy self-sufficiency rate. To this effect, we will continue to promote the diffusion of re-energization by installing photovoltaic power generation and consider introducing the generation of biomass energy, small hydroelectric power generation, etc., using regional characteristics to diversify and diversify energy. We're going. We will also actively participate in demonstration projects of VPP (* 1) and V2G (* 2) to adjust the supply of electricity and demand within the region.
(※ 1) Abbreviation for the virtual power plant. Concept or integration itself that integrates multiple installations of generation of energy on a small scale and systems of control of energy demand to make it work as an electrical power plant.
(※ 2) Abbreviation for the vehicle on the grid. Provide the electrical energy stored in the EV storage battery (electric vehicle) to the electrical power system.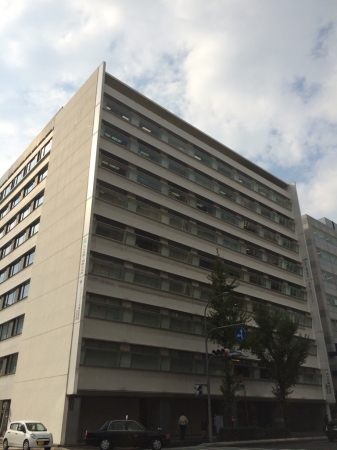 【Company profile】
Company name: Japan Eco Life Co., Ltd.
Location: Fukuoka Prefecture Fukuoka City Hakata-ku Hakata Station Nami 1-3-11 KDX Hakataan Building 8th Floor
Representative: Takuo Yamamori
Establishment: May 29, 1995
URL: https://www.j-ecolife.co.jp/
Commercial description: Sales management / construction and maintenance of products related to the environment, energy solution, wholesale, leasing
【Customer inquiries】
General reception TEL: 0120-123-994
(Reception hours from 10:00 to 20:00)
【Click on the coverage on this version of queries】
Japan Eco Life Co., Ltd.
Department of General Planning Tsuji / Nakajima
TEL: 092-475-5200
(Reception hours: Week of the day 9:30 a.m. 6:30 p.m.).
Details of the company's press release
LOANS Top
* Prices, specifications, service contents, etc. of the products indicated in the press release are from the filing date. Understand beforehand that you can change without notice.