Rugby players from Bay of Plenty, Ngarohi McGarvey-Black and Luke Masirewa, have returned to the All Blacks Sevens shirt for the Sevens Oceania tournament this weekend in Fiji.
McGarvey-Black and Amanaki Nicole promised that All Blacks Sevens will be debuting last season due to injuries, while Masirewa and Tone Ng Shiu are receiving this tournament after the limited game time in 2018.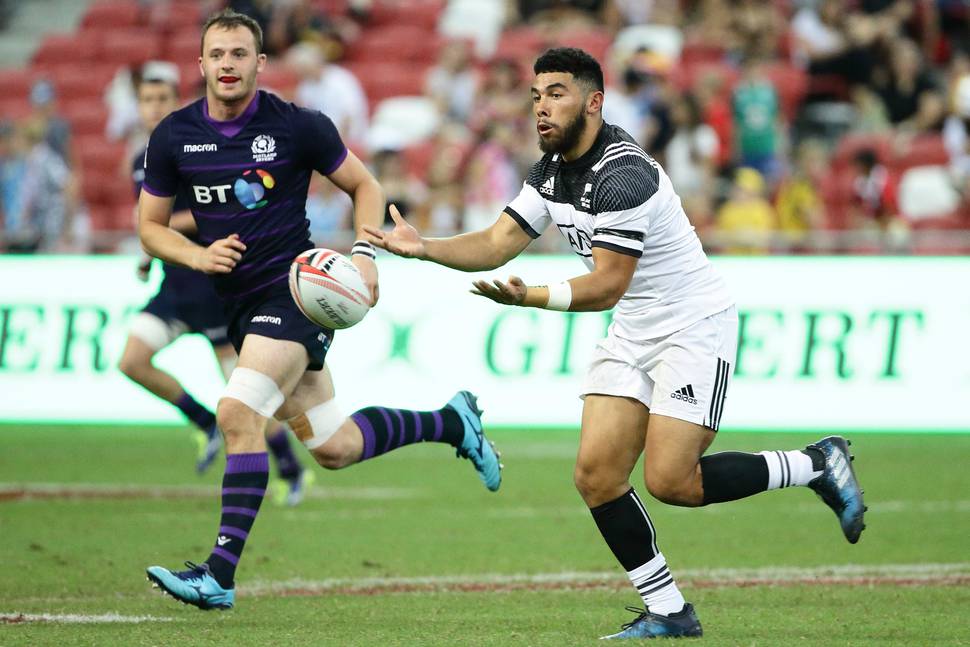 They are not the only players of Bay who accelerate this weekend. Sam Dickson was named co-captain of the team with Dylan Collier. Regular co-leaders Tim Mikkelson and Scott Curry will travel with the team as reservations.
"Dylan and Sam are top players of our team that are already leading their actions. This will be a good challenge to take a new group in the accumulation and during a tournament," said coach Clark Laidlaw.
Laidlaw said that Oceania Sevens was a great opportunity for the team to leave the field before the HSBC World Series begins at the end of the month.
"We are eager to go back there. We had small numbers in the preseason, with many people still with Miter 10 Cup, but the players we've had are working hard and can not wait to enter a rugby," he said.
"This tournament presents a good chance for some of our younger players to intensify with a number of older children who do not play and also accumulates deeply giving gamers a crack at this level.
The All Blacks Sevens will face New Caledonia and Nauru in a pool game with competition, which begins on Friday.
The matches of Black Ferns Sevens Development are also in preparation for the Oceania tournament this weekend.
The development coach, coach Crystal Kaua, said that exposing the next level of seven talent to international competition was crucial in the development of the players.
"Our work in this development team is to get this group of players behind the fully-engaged squad ready for the transition to that space. It really is a step for that Black Ferns Sevens team and we've seen players from this team in Full-time contracts, "said Kaua.
"We are together for a short period of time so we want these players to be in an environment where they can be safe and express themselves in the field.
The team of Black Ferns Sevens has experience in the form of players of Black Fenns Sevens, Shakira Baker, Terina Te Tamaki and Huia Harding.
"These girls bring a lot of control to our environment, they are very willing to share their knowledge and want players around to do well."
The team played for the last time in Hokkaido Sevens in Japan in September, losing to the Australian national team in the final.
Black Ferns Sevens Development team plays Fiji, Cook Islands and New Caledonia in the pool, starting Friday.
The All Blacks Sevens team:
Jordan Bunce (Waikato)
Dylan Collier (Waikato)
Scott Curry (Bay of Plenty)
Sam Dickson (Bay of Plenty)
Scott Gregory (Northland) – New Cap
Taylor Haugh (Otago) – New Cap
Trael Joass (Bay of Plenty)
Luke Masirewa (Bay of Plenty)
Tim Mikkelson (Waikato)
Ton Ng Shiu (Tasman)
Amanaki Nicole (Canterbury)
Ngarohi McGarvey-Black (Bay of Plenty)
Joe Ravouvou (Auckland)
Andrew Knewstubb (Horowhenua Kapiti)
The development team of Black Ferns Sevens:
Shakira Baker (Waikato)
Kendall Buckingham (Southland)
Huia Harding (Waikato)
Talei Kidd (Auckland)
Rina Paraone (Waikato)
Mahina Paul (Bay of Plenty)
Chey Reti (Waikato)
Leanna Ryan (Waikato)
Kennedy Simon (Waikato)
Susana Sotutu (Auckland)
Grace Steinmetz (Canterbury)
Terina Te Tamaki (Waikato)
Janna Vaughan (Manawatu)
Draw for Friday, November 9th:
11.21 am Black Ferns Sevens Development v New Caledonia
2.30pm Black Ferns Sevens Development v Cook Islands
4.36pm All Sevens blacks against Nauru
5.39pm Black Ferns Sevens Development v Fiji
7.45pm All Sevens blacks against New Caledonia
Saturday November 10: Play offs
Source link