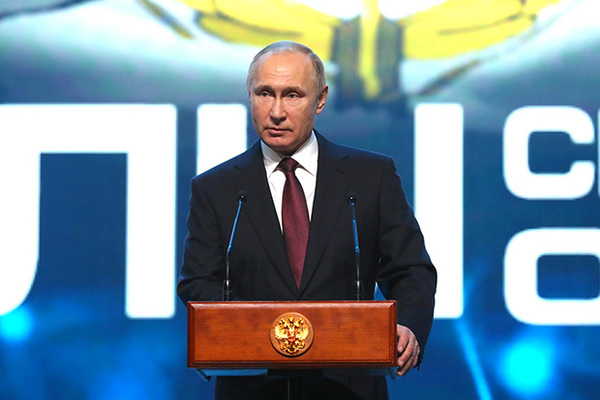 Russian President Vladimir Putin has called on Interior Ministry officials to increase the detection of crimes in the country and fight extremism more actively. He said this request on Thursday February 28, speaking at the meeting of the expanded board of the department, reports RIA Novosti.
According to the head of state, in 2018 "almost every second crime remained unresolved." He noted that a similar state of affairs was observed in the country in previous years, and asked police officers to "handle all the resources – operating operational capabilities and techniques of internal agencies" to solve this problem.
Putin also added that Interior Ministry officials should concentrate on identifying the most dangerous extremist crimes. At the same time, he stressed, law enforcement officers must stop settling statistics at the expense of cases where "there is no valid reason".
"If there is a reason, we must work. You see, it does not follow how the water flows along the river and listens to them with your eyes, you have to work," said the Russian leader.
At the same time, the president noted that, in general, the number of crimes, including serious ones, decreased in 2018, and the proportion of citizens who believe that the police helps to solve their problems, on the contrary, has increased.
In January, Nikolai Patrushev, secretary of the Security Council of Russia, said that in 2018 only a terrorist act was committed in the territory of Russia. According to him, during the last five years, terrorist activity in the country has decreased more than 20 times.
What happens in Russia and in the world? We explain to you in our YouTube channel. Subscribe!
Source link