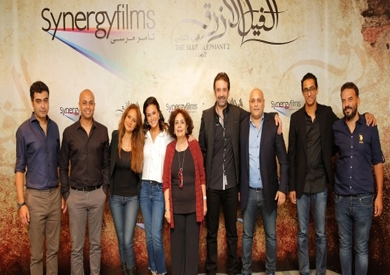 Posted in:
Friday, November 16, 2018 – 2:22 p. M
| Last update:
Friday, November 16, 2018 – 2:50 PM

Cineergy Films performed a show with the creators of Blue Elephant to announce the release of the second part of the movie in November. The film featured the presence of the stars of Karim Abdulaziz and Nelly Karim, as well as Hind Sabri who joined the team of the second part, Marwan Hamed and author Ahmed Murad.
Cinergy Films decided to present a second part of the film, after a great public success in the Egyptian and Arab theaters after its launch during the Eid al-Adha season in 2014, and obtained nearly 35 million Egyptian pounds at the box office, with sales higher than One million and 200,000 bills.
The first part of the "blue elephant" presented an unusual and deep atmosphere at the bottom of the human psyche. The second part tells the story of Dr. Yahya's return to work at the Abbasiya mental health hospital, after he chose to spend 5 years away.
The publication of the second part of the Blue Elephant coincided with the start of the shooting of the second part of the movie "Walid Rizk", where artist Mohammed Mamdouh published "Tyson" a photo on his "Instagram" account brought together by the heroes of the play, Ahmed Ezz, Ahmad Al-Fishawi, announced the beginning of the photography commenting "a time like the violin", as Tarek El-Erian announced, the entrance of the second part in force, publishing a scene image written by Salah al-Jahini.
The popular and critical success of the first part of "Ladd Rizk" led filmmakers to present a second part, especially because it was a group featuring a large number of stars. The film revolves around a group of brothers who walk the path of crime, The eldest brother and his brain Rida Rizk (Ahmed Ezz) decide to work in the family workshop and marry the girl he loves. The rest are in a terrible business with a drug trafficker while they are betrayed and persecuted by the police.
Ahmed Fahmy, Roby, Mohamed Mamdouh, Asthma Abu El Yazid and Arafa Abdel Rasool. Ahmed Fahmy, CEO of iProductions, produced a "live bullet" During a tour of Ahmed al-Fishawi in today's cinema, he is considering presenting a second part of the film "caliber" especially after the success and public controversy he has achieved, and a recent meeting with the author and director of the film to discuss the issue.