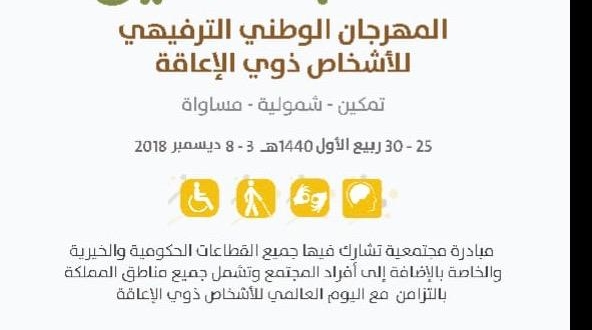 Citizen – Riyadh
The National Festival of Funerals for People with Disabilities will begin on December 3 to complete the plan prepared by the Organizing Committee and the subcommittees under the supervision of the Ministry of Labor and Social Development, with the initiative and implementation of the Association of children with disabilities, Partial as well as complete
The event included 25 male rehabilitation centers, 7 female rehabilitation centers, 36 private charities, 10 associations for children with disabilities and 19 private centers in 25 cities of the Kingdom.
The festival has selected places for events distributed in cities and governments in the centers of associations for people with disabilities in Riyadh, Makkah, Madinah, Asir, Baha, Najran, Jazan, Eastern Province, Hail, Tabuk, Al Jawf, Qassim and the northern border.
The festival also carried out its activities in several rooms to facilitate attendance such as universities, shopping centers, associations centers, sports halls, public places and cultural centers.
The Media Committee has developed a broad implementation plan over 3 weeks on television, radio, newspapers and social networks, including content suitable for the message of the festival and serves the objectives of the participants and their employees of the participating associations and parties.
The festival will provide an opportunity for all participants to participate in the event, including activities of entertainment, culture, arts and sports with the participation of people with disabilities.
It should be mentioned that the festival has values ​​that it intends to consolidate to promote the integration, integration and equality of people with disabilities with society and allow them to live a better life.
The festival is an initiative that involves all sectors of government, charity, social and private responsibility programs, as well as members of the community, including most of the Kingdom's cities.
The festival is a unique event with the participation of the associations so that they appear uniformly to take advantage of the efforts and compile the different initiatives that are not clearly shown to the public.