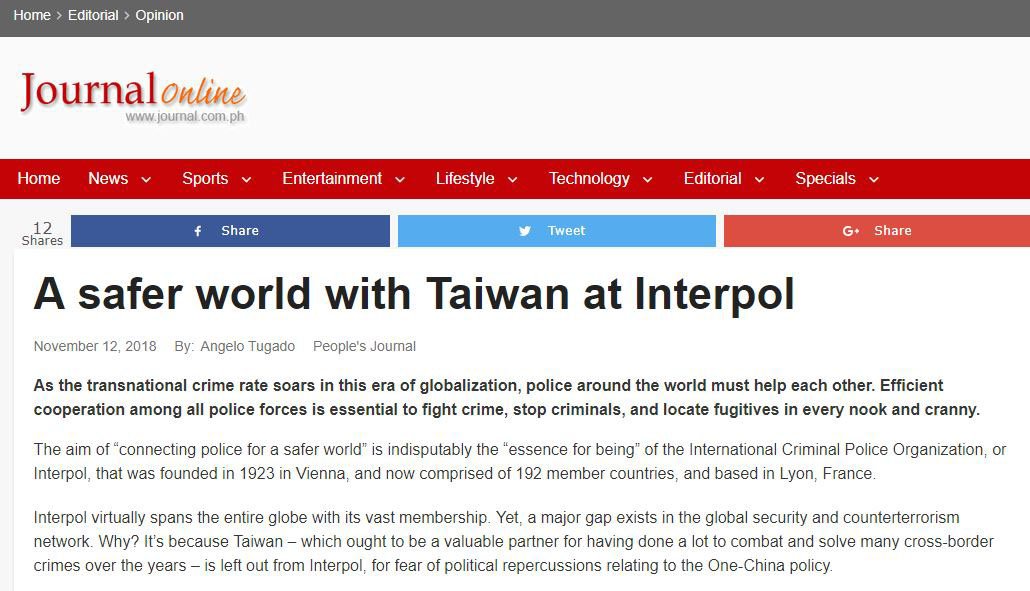 Time: 2018-11-16 20:46
News Quote: Central News Agency
Written Editor: Huang Qilin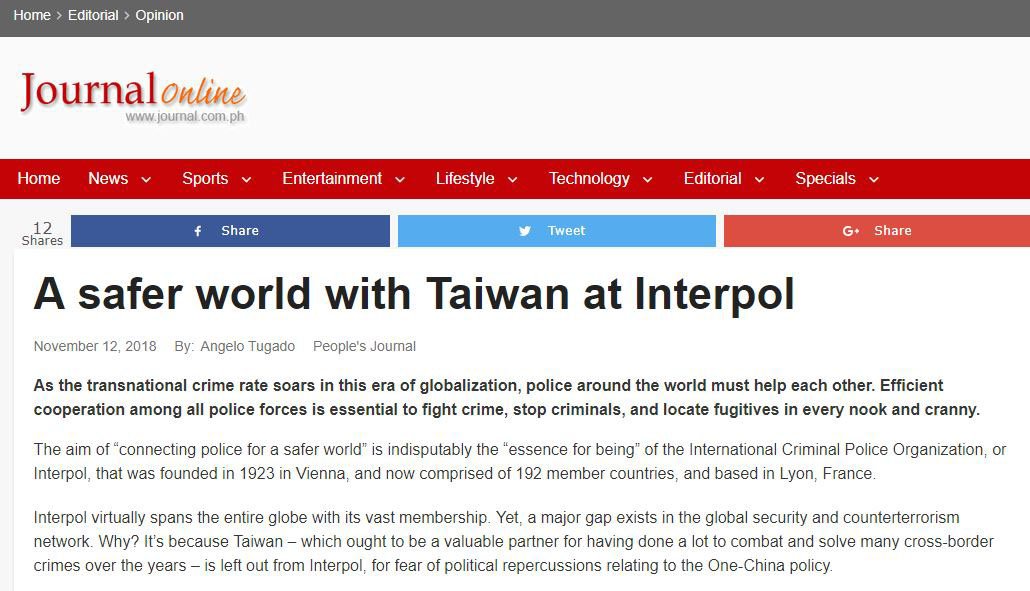 A columnist from the People's Journal of Philippines wrote a special article in two days, citing real cases and pointing out that Taiwan needs to participate in Interpol to help the world to be safer.
On 13th and 15th, Filipino columnist "Daily People", Angelo Tugado, cited a practical case in a special article entitled "Taiwan's participation in Interpol, the world is safer," indicating that Taiwan needs to participate in the affairs international Interpol.
The article mentioned that, although Taiwan has withdrawn from the International Criminal Police Organization due to political factors, it has been working hard for international trade and cooperation through the "bilateral cooperation mechanism" for decades. On May 23 this year, in Pingtung, the police authorities of the Philippines were helped to seize the councilors. Ricardo Parojinog was repatriated to the Philippines for trial on July 27.
The Palogugnog family has been accused of supplying drug supplies to Ozamiz in the south of the Philippines. Dutti offered a reward of 5 million pesos (about NT $ 3.15 million) to stop the councilor. In October of 2017, with the help of its friendly, it was robbed in Donggang, in the county of Pingtung.
Dugado said in the article that if Taiwan can successfully join Interpol, it will be endorsed under the "I-24/7 Global Police Communication System", "Stolen and Lost Travel Documents (SLTD) Database" and other exchange training activities. It can play a more powerful role and the Philippines from neighboring countries in Taiwan will also benefit.
Interpol will hold the 87th General Assembly in Dubai from 18 to 21. The Philippine media have supported 7 reports on the participation of Interpol in the International Criminal Police Organization. The article is the last in Dugado and is divided into two days. The publication shows the long-term observation of Duquedo and deep concern for the relations between Taiwan and the Philippines.
Latest in this category
More