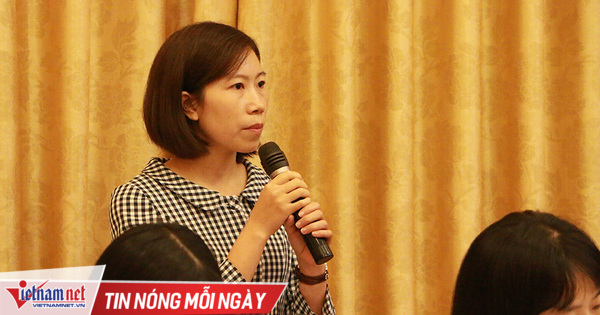 – "This morning, my colleague climbed to the plane to work abroad. She is a history professor, with an antiquity of 8 years, getting the best district teacher.
That is the heavy proportion of professors Duong Thi Phuong Thao, professor at the Mac Dinh Chi Secondary Institute (Ba Dinh, Hanoi) in the workshop "Pressure of the workforce of current teachers: causes and solutions" took place on the morning of 11/16.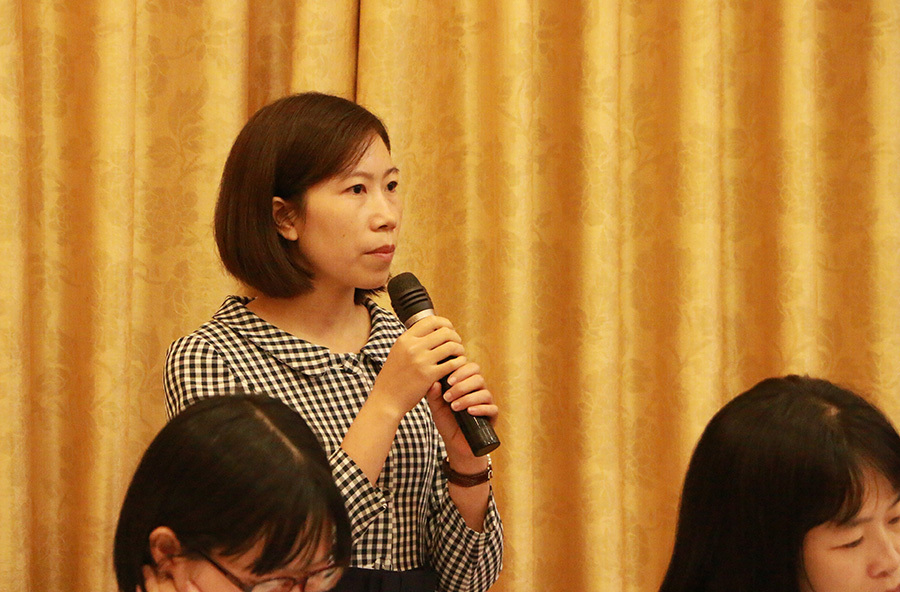 Duong Thi Phuong Thao, professor at the Mac Dinh Chi Secondary Institute (Ba Dinh, Hanoi) shared the sad professional pressure stories.
Not only pressure, but also urgency and depression
The stories that Thao shared about the pressure of teaching lasted almost 20 minutes. "This is not only pressure, but also frustration," says Mrs. Thao and many other colleagues.
"For more than three years I have been a professor of education at the city level. On November 21, I was still in the classroom on November 19 to decorate and instruct classmates. At 7 in the evening I was still in school. That same day was also his first anniversary. I am crying. I have never felt the pressure of such a great profession. Until this point, I still do not understand why I have spent those months. "
"Before each exam, the inspector, our teachers were still happy to" prepare to break ".
The second pressure that Mrs. Thao refers to student exams.
She said that the secondary student transfer exam in Hanoi is sometimes more difficult than the entrance exam to the university. "Hanoi has its own theme. As a full professor of 9th grade, I have to take on the task of 44 students to overcome aspirations 1. Because the results of the exam will be the basis for the qualification of high school. We have to work day and night Currently, 1 week and 3 days, we have to be in class for students until 7 at night to return home ".
"But we have no other way. If we do not, we will see our ability to work, to look at other district colleagues in the city because it is the result of the school."
Meanwhile, to teach 14 years, the payroll was 9 years, until now Mrs. Thao's salary is 4.7 million.
"How will I live in the capital?"
"Fortunately, I have the family to share the tranquility with the profession. But my colleagues will receive questions about the relatives' salaries so that they enroll.
"Therefore, we can not blame now that many teachers sell online."
"This morning, my colleague just joined his husband to export work to Japan. She is a professor of history, 8 years in the profession, won a good district professor.
"History is a subject in which we often say:" There is no more movement, there is no more education. "His salary is now 4.1 million. But she has to rent, then how can she stay. choice is to export work according to her husband. "
The number of teachers discouraged, abandoned work is increasing rather than being reduced, Mrs. Thao confirmed firmly.
"My colleague shared that each year the school had a lesson plan so that they could not print the old lesson plan. But this is in fact absurd. Why is a sample of the wrong word 1 being evaluated as a teacher? a requirement in the class that can not comment on the students as "very true" because it is also a complement for students Where is this? It is at the management level but not in the ministry, but at the grassroots level, of the main specialist for the department of education. These are extremely inadequate and extremely reasonable. "
"There are people in the classroom that each one of the words worries who reviews and criticizes. So how can we promote our careers?"
"I think it's not just the pressure, it's frustration and frustration."
& # 39; Unbound & # 39;
From these pressures, Ms. Thao expressed his desire for a teacher. "I want to reduce the load because it is too heavy. When we do not innovate, we dare not cut anything."
"The second is to reduce the number of periods. At present, 21 teachers are taught in primary school, 19 lessons per week in secondary school. It's a bit thought, but 19s backstage work is too much. In the future, with the new program , teachers should learn more with such numbers, the work will be heavier. "
The second recommendation of Thao is to download the records. This has a lot to do with the leaders of the school and the education department.
"Why do we copy up to 80 pages of the guestbook while all student and parent registration lists are already available on the computer. Why do not we print and copy it? It's slow and not reasonable.
"Regarding salaries, it would be a distant dream, but each school should have a policy so that teachers can improve their standards of life."
On the change of school governance, "it gives us more autonomy".
Mrs. Thao shared her stories and desires are also shared by many professors. However, he shared this, if the things you want do not have to change to fit the situation.
Nguyen Thao

I was silent when my father said: "She is a kind teacher"
It was a paternal meeting last year. We have an exchange of results, professional guidance, daily worries for children.

Singaporean teachers are "incredibly tall" payments
According to a global survey of 35 countries, Singapore teachers have the longest working time after New Zealand. However, they are paid almost twice that the professors consider it fair.

The American professors do the time for themselves
Teachers in the United States are currently working as a barman, an Amazon store employee, movie director, fast food manager. They will work overtime and try to be agreed upon when they go to class.

Teachers should not offend or disdain students
The professors, the directors should respect the differences of the students, not to be offensive and contemptuous.
Finnish teachers are not afraid of the boss, without being criticized
Not only attractive income, in Finland to teach, it is considered a special lifestyle. Teachers are completely self-sufficient and never criticized.