Friday, 11/16/2018 09:17 (GMT + 7)
Gold prices in the dawn sky skyrocketed in the context of world gold prices in the highest week.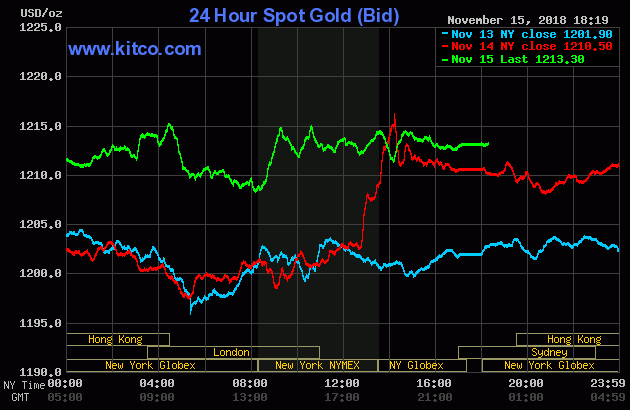 The world gold price has risen to the highest level this week
Opening this morning in Asian markets, the world gold price rose slightly 0.30 per ounce (0.02%) to 1.214.30 per ounce.
At last night's trading session in Vietnam, the price of gold continued to bargain for a maximum of more than $ 1,210. Sometimes the price of world gold amounts to $ 1,217.10 per ounce.
December gold also rose $ 2.70 to $ 1.212.80 in an ounce.
The trading range was not large, but world gold maintained price stability and maintained the highest level in one week.
In the domestic market, SJC gold in the market of the city of Ho Chi Minh was traded at 36.42 million VND – 36.58 million VND / tael, up to 60,000 VND / kg. Buy and sell heavily 80 thousand sell.
Meanwhile, the price of Doji's gold was traded at 36.45 million VND – 36.55 million VND / tael, a sharp increase of 70 thousand VND and up to 90 thousand VND.
Domestic gold prices shot. Work of art
It is not far from the trend, Gold Dragon Thang Long Jewelry Company Bao Tin Minh Chau this morning jumped 150 thousand in two ways to 34.71 – 35.16 million per volume.
Gold prices have risen amid worries about the health of the US stock market. UU. After the recent compensation.
Regarding Brexit, when the pound fell sharply, European bonus yields increased as capital flows also sought safe shelter.
The index of the United States dollar in intraday trading was still trading more in the morning for more than a week on positive news from the US economy.
Investors are watching the Fed movement when Federal Reserve chairman John Powell said on Wednesday that the Fed was closely observing the slowdown in global economic growth. But Powell also implies that the current situation does not lead to a change in the Fed's monetary policy in the way interest rates continue. However, the sale in the US market can also affect the agency's policy decisions.
In addition, investors are also seeing new developments in the battlefield of US and Chinese trade. The G20 meeting in Argentina later this month will also see that the president of the United States and Chinese leaders are face to face on this issue.
Technically, the price of gold futures is expected to break the target price to rise further above the strong technical strength of 1,217.20 and 1,220 dollars per ounce. In contrast, short-term support is hoping that the precious metal price will be 1,207.10 and 1,200 dollars per ounce.