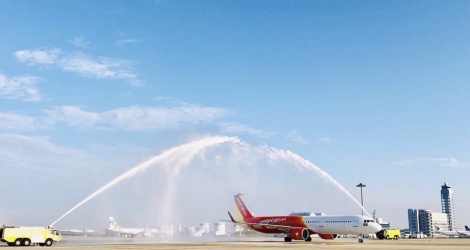 Today Vietjet officially launched its first direct flight to Japan, connecting Hanoi with Osaka (Japan), contributing to promoting tourism, trade and integration. two countries and in the region.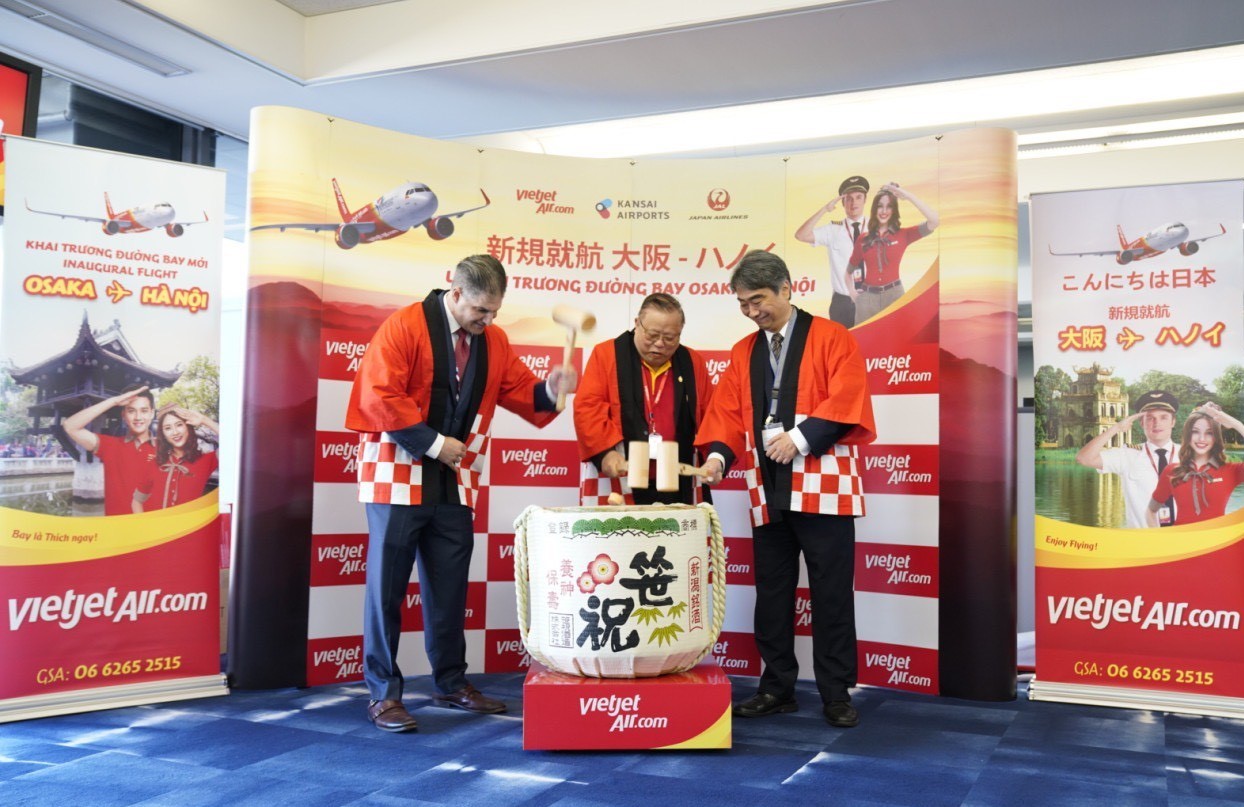 The launching of the Kansai airport is made in the traditionally "Kagami Biraki" tradition in Japan.
The opening ceremony at the Kansai airport is carried out under the traditionally "Kagami Biraki" tradition in Japan. Then, passengers on the flight from Osaka to Hanoi have the opportunity to enjoy the unique folk dance of Vietnam with the desire to bring Japanese and international travelers to Vietnam. of the company. In addition, passengers from Hanoi to Osaka and vice versa also received many interesting company gifts like Viet Nam's brocade, beautiful Vietjet gifts.
Jeremy Goldstrich, the vice president and CEO of Kansai Airport, said: "We are very honored to be selected as the first airport that Vietjet connects to when flying to Japan from Hanoi and from the city of Ho Chi Minh. Hanoi is an exciting destination and a Gateway to connect tourists with many world-famous destinations in Vietnam such as Ha Long Bay, Ninh Binh, Sapa, etc. And I hope that people and visitors from both countries have more opportunities to travel, travel and trade with fun, friendly flights and economic of the future of the airline. "
The Hanoi-Osaka route operates daily with a flight time of more than four hours with the new and modern A321neo. The flight leaves Hanoi at 01:40 and arrives at Osaka at 07:50. The reverse take-off is expected at 09:20 from Osaka and Hanoi at 1:15 p.m. All flight schedules are in local time. With the operation of the Hanoi-Osaka route, Vietjet raises the total number of international routes to 64 routes for 11 countries. The airline will continue to launch two new routes to Japan, including HCMC-Osaka (Kansai) as of 12/14/2018 and Hanoi-Toyko (Narita) as of 01/11/2019.
The welcome flight Hanoi-Osaka, Vietjet dedicates 3 days of super gold promotion 07, 08, 11/9/2018 in all time frames of the day 10,000 tickets save money just from 0 dong (*) at www.vietjetair.com. Promotional coupons will be applied on international flights to Japan, available for sale on their channels at www.vietjetair.com, on the phone https://mysitevideo.com, facebook www.facebook.com. com / vietjetvietnam, "reservation"; Immediate payment via Visa / Master / AMEX / JCB / KCP / UnionPay cards and ATM cards from 34 major Vietnam banks (registered Internet Banking).
The Hanoi-Osaka route is also the first code-sharing flight between Vietjet and Japan Airlines. Some other routes operated by Vietjet belong to the Hanoi code code program – Ho Chi Minh City, Hanoi – Da Nang and Ho Chi Minh City – Da Nang.
Vietjet is the first airline in Vietnam that operates under the new most economical and flexible aviation model and offers a wide range of services to its customers. Not only air cargo, Vietjet also offers consumer goods and services for customers through advanced electronic technology applications. Vietjet is an official member of the International Air Transport Association (IATA) with the IOSA Safety Certification. Vietjet has been classified as the 7th highest airline safety rating by AirlineRatings.com, the world's leading airline and aviation security agency. Prior to that, AirlineRating also highlighted Vietjet with the "Best Low Cost Airlines 2018". The airline recently also surpassed the top 50 global operators for health and financial operations in 2018, according to the Airfinance Journal.
At present, Vietjet operates 60 A320 and A321 aircraft, which carry more than 385 flights per day and have carried more than 65 million passengers, with 103 routes covering Vietnam and national routes. to Japan, Hong Kong, Singapore, Korea, Taiwan, China, Thailand, Myanmar, Malaysia, Cambodia …
The airline plans to expand its regional Asia-Pacific network and continues to expand its regional routes and signed a new and modern aircraft purchase agreement with the world's leading aircraft manufacturer.