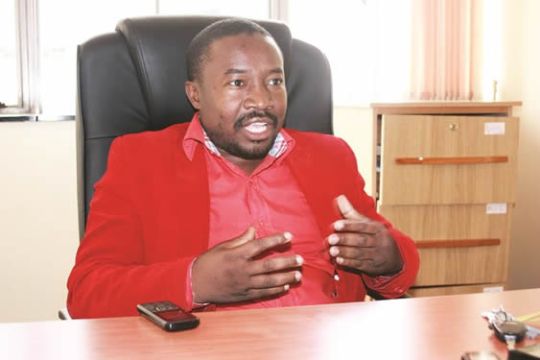 By Jacob Mafume | There is a continuing threat to the life of President Nelson Chamisa and we note with concern the perpetual invasion of his privacy.
While we understand that it is a public official, we are extremely concerned that the State has installed apartheid-style vigilance that is in violation of the Constitution in reference to the president's privacy. Concerns about the safety of President Chamisa do not extend only to him, but to his family and other party leaders.
It is frank because the monitoring is being done in a way that endangers the life of the president. They continue their race at extraordinarily high speeds, interfere with the vehicles on their motorcycle and sometimes they overcome it by the strict violation of the rules of the road.
We are sure that the intention is to cause an accident and then blame their drivers for negligence.
What worries the Saturday fight is that they physically interfere with the caravan and tried to catch and kidnap the president. They followed their Marondera caravan and when security was realized that they were being followed, according to their protocol, they deliberately marched to Ruwa to avoid followers who kept their tail. The president's caravan returned to the road, became Mabvuku and went to the station where a report was made.
The security noted that the persecutors had sophisticated high-tech communication devices, they were armed and the vehicle that coordinates them had blue lights. His behavior was that of calm and trained individuals. In any case, when addressed, they have been identified as government officials.
This is not the first time that President Chamisa has been persecuted by armed men. On September 8, 2018, while coming from a concentration in Chitungwiza, his motorcycle was chased down the Enterprise road, where his security personnel blocked the vehicle and the occupants of that vehicle produced firearms before taking off.
There was another incident on November 1, 2018, where he addressed Domboshava for prayer and was followed and ended up cutting off his prayers. The serious security situation in Zimbabwe is such that it is not only President Chamisa whose life is in danger but rather his family and the main leadership of the MDC. Vice President Senator Morgen Komichi, Hon. National Vice President Tendai Biti and chairman of the Honorable Youth Assembly. Happymore Chidziva has all her life threatened in one way or another.
On August 1, 2018, when innocent civilians were brutally murdered by soldiers on the streets of Harare, we all learned that even innocent ordinary Zimbabweans are not safe under this new dispensation call.
Peculiarly, the victims ended up being blamed for dying. In the present case, there is a laughable and almost humorous attempt to blame President Chamisa for continuing and being almost abducted.
Now they want to charge the victim.
The statement by Monica Mutsvangwa is not only deceptive but ill intentioned and a direct attempt to influence the police investigation towards a particular direction of charging the victim and not the authors.
We pay citizen journalism to record these incidents. Although fans do it, at least the videos indicate what happened.
Please note that this is the same government that blamed Itai Dzamara for disappearing! Fortunately, we also record vehicle registration numbers that we provide to the police. It turns out that trackers are cloning vehicle registration numbers and sometimes they use fake registration numbers.
These threats to our president and the party are violations of the sacred rights enshrined in our Constitution. Sections 52, 57, 58, 59 and 67 are our democratic rights in which they seem to be vilified. Section 219 clearly states that the police should be non-partisan, of a national, patriotic and professional nature. A government minister can not talk about ongoing investigations without compromising them, just like Monica Mutsvangwa has just done.
With regard to the incident on Saturday, a member of the security of President Chamisa was injured while jumping from the car that kidnapped him.
President Chamisa remains firm, resolute, indetest and very willing to prosecute the popular struggle for its logical conclusion. President Chamisa responds: "You are against me with sword, spear and javelin, but I am with you in the name of the Lord of hosts" (1 Samuel 17 verse 45).
Here is the New, Change that is delivered
Jacob Mafume
National MDC spokesperson
If our services helped you, our work would be much safer with your help:

For less than £ 5, you can support ZimEye – and it only takes a minute.
Source link